John Richards Trio
24th July 2019 @ 8:00 pm

-

10:30 pm
John appeared solo a couple of years ago. His songs have been covered by, amongst others, Fairport Convention. Notably 'Honour and Praise' and 'The Deserter'. He has now formed a trio.
Here's his story that led to this year's gigs.
My first song that was covered, was by Robin Dransfield who heard "Did you like the Battle Sir?" and said he'd like to sing it. More recently Greg Russel and Ciaran Algar  covered it.
I was then in Maurice and the Minors in the 80s which is when we first recorded Honour & Praise, The Deserter and Shine On which have been covered by quite a few people, including Fairport Convention. Jim Sutton was with me in Maurice, he is an excellent double bass player, very highly regarded on the jazz circuits and also an excellent keyboard player and arranger. He is one of my current line up. After that we had an electric roots band 'Desperate Men' for a good few years. Jim was the original bass player with that band and my eldest daughter Emma started singing with us during those years. She is another of my current line up and is singing wonderfully (after an operation on her spine just one year ago). Later I formed the John Richards Band and Jim and Emma were constant members of that band  through a number of different line ups. After a long time collaborator from all three of the bands decided to emigrate in 2014, we called it a day. Clubs started to ask me to play solo gigs, which I enjoyed BUT, I love working with others and the instrumental and vocal harmonies that can be achieved. So eventually the line-up started to grow again. So I now do very occasional solo gigs, gigs with Jim, as a duo and gigs with Jim and Emma.
Last  year eventually saw the start of another pleasing development, which has led to this year's gigs. It started with very sad news. A very close friend who was with me in Maurice and the Minors died. I'd last recorded in 2012 because Mick Dolan who had produced all but one of our CDs since Maurice and the Minors had also died and frankly I thought I'd finished recording. When our mate died on New Year Day 2018 it was a real shock and after some time I realised I had a briefcase with a good few part written songs and ideas in it and had it been me that died, they would have never seen the light of day.
The only CD that Mick Dolan hadn't produced was produced by Phil Beer. So when Phil told me that he was building a new studio in Devon, it was the happiest of coincidences. I was of the mind that this would be my last CD so I decided to ask a few friends to join me and Mike Silver, Paul Downes, Kim Lowings and Chris Drinan, Ali Franklin and Julia Disney from the old John Richards Band all got involved  with Jim, Emma and me to record all the new tracks. I also ended up co-writing a couple of songs for the CD with Mike and one with Phil. Julia, who after the John Richards Band was a member of the Gren Bartley Band, enjoyed the reunion and said she'd like to do more, so we are doing a number of 4 piece gigs this year. Julia adds another wonderful vocal plus violin and viola BUT, sadly, she is on holiday for the Banbury gig so it will be Jim, Emma and me.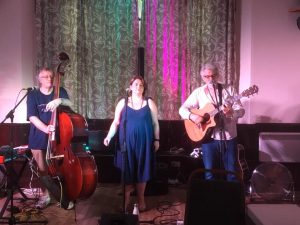 Support is from Carys, a singer songwriter with an enthusiastic and evocative stage presence, displaying a natural charm that has won her many admirers, not only within the folk scene, but also far beyond it. Her first solo album 'A Different Kind Of Normal' certainly reflects that, with its roots firmly in folk, but also dipping into rock, pop and even a little electronica. The title describes Carys perfectly, because she has Asperger syndrome, and realised a long time ago that her mind has a unique way of producing some interesting songs. So it's no surprise that 'A Different Kind Of Normal' is chocabloc full of varied and thought provoking lyrics and musical ideas covering several genres, but imbued with the unique musical and vocal style of Carys. Most of the tracks on 'A Different Kind Of Normal' are self-penned and the album features numerous guest musicians including Rick Kemp, Mike Briggs and Triangle, with David Wright adding his input on rhythms, keys/synths and strings. (David Wright and Carys released "Prophecy" in March 2017. Since then they have performed music from the album in the UK, Germany, Norway and the Netherlands.) Carys is a unique talent, beautifully interpreting her songs with a creative verve and enthusiasm that is sure to enchant, entrance and entertain in equal measure.