John Conolly. Support from Simon Loake
May 25 @ 8:00 pm

-

10:30 pm

£8
JOHN CONOLLY is an internationally-respected songwriter, who has based his style firmly in the
British folk tradition. His most popular song, "FIDDLERS' GREEN" – a fisherman's vision of Paradise – is performed and loved all over the world.
John's childhood was spent not far from the docks in the English fishing port of Grimsby, where the River Humber joins the North Sea, and where his grandfather and great-grandfather learned their trade as shipwrights in the riverside dockyards. As the fishing industry declined, following the "Cod Wars" with Iceland, John watched the local fishing fleet limp into oblivion, and began to chronicle the lives and labours of the men who worked on the trawlers and along the waterside. "FIDDLERS' GREEN", written in the 1960's, was popularised by folk artistes like the Dubliners and the Clancy Brothers, and has become firmly embedded in the canon of maritime music.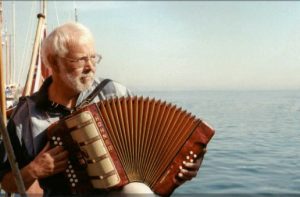 Support is from Simon Loake, making a welcome return to the club.