Afternoon Delightful!
10th October 2021 @ 12:30 pm

-

6:30 pm

Free
PLEASE NOTE: THIS EVENT IS AT GENERAL FOODS S&SC, SPICEBALL PARK RD, BANBURY. OX16 2PA
FREE ENTRY!
As it is impractical to run a full festival this year, we have hijacked General Foods Sports and Social Club for an afternoon! A mix of delightful music, from mainly local artistes. Entry is free but there will be a bucket collection, a tombola and a cake stall, selling home-made cakes. Money raised will go towards paying our performers.
Keith Donnelly will be our compere and, in addition, will be doing a set of this own. A superb performer, he will have you in stitches but, don't take our word for it. This is what renowned comic, Jasper Carrot, has to say – Keith is a very (very!) funny, globe-trotting, Geordie tall-tale-telling-singer-songwriter-guitarist. Keith could make sheep laugh!
We're delighted that Scarecrow are joining us. A Local trio, with many years experience. Their repertoire includes Show of Hands and Bellowhead songs, with a lot of other great tunes added in for good measure.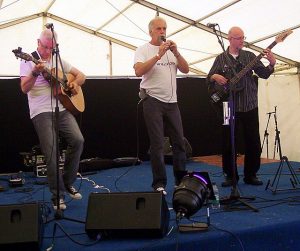 Liam Vincent and The Odd Foxes formed in early 2020, drawn together around songs about the modern world – what we are doing to it and what it is doing to us. With folk, indie and rock influences, the songs all have something to say, either by whispering in your ear or rattling your ribcage. The band released their acoustic EP, Pierson v. Post, in 2021. One review said: "This album is a perfect reminder that no matter what's going on in the world, life is worth celebrating and there will still be a new day coming after dark. It's also such a sweet collection of masterfully crafted songs and should be taken as a fully-fledged folk album."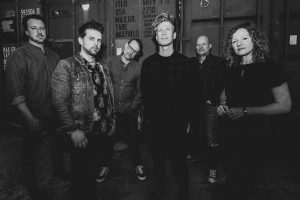 Stained Glass is an experienced four piece bluegrass band from Warwickshire, featuring banjo, mandolin, guitar and double bass. They perform close harmony singing and hard driving instrumentals, music ranging from traditional to modern bluegrass with a sprinkling of gospel. They have performed at numerous bluegrass festivals, and currently run the Birmingham bluegrass session twice a month.