Paul Walker & Karen Pfieffer Support from Paul Lodge
October 26 @ 8:00 pm

-

10:30 pm

£8
"With two grand voices – individually and in harmony" (Folker-German Folk Magazine), the Anglo-German duo Paul Walker & Karen Pfeiffer offer a versatile miscellany of self-penned and imaginatively arranged songs, delivered with guitar, woodwind instrumentation and occasional percussion.
"I've never seen our audience so spellbound!" (Malc Gurnham, Bedworth Folk Club)
So, what is it that makes this internationally touring pair so irresistible? Whilst Paul Walker & Karen Pfeiffer are acclaimed for their image provoking songwriting, expressive vocals and authentic musicianship, they are frequently recalled for their warmth, humour and their remarkable ability to engage with their audience. Karen's natural theatricality and life affirming playful energy compliment charmingly with Paul's calm geniality and combined they magically turn a great performance into a real event.
The duo has toured its shows extensively taking in New Zealand, Australia, Germany, Ireland and most corners of the UK, wooing audiences with Karen's southern German accent tinged with an 'oatcake induced' North Staffordshire dialect from Paul's heritage.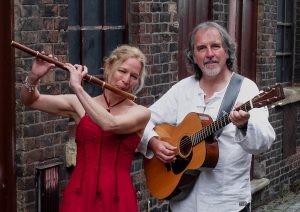 Support is from Paul Lodge who is a unique mix of musician and professor of philosophy at Oxford University. His songs are informed by his lifelong engagement with music, philosophy, and literature and come from the same place of mystery as those of Bob Dylan, Nick Drake, Joni Mitchell, and Bonnie Prince Billie. Paul plays regularly in and around Oxford at venues such as The Old Fire Station, The Banbury Folk Club, The Oxford Folk Club, Acoustic Music Convention, Port Mahon, and Mansfield College (where he performed for Hillary Rodham Clinton). His debut album 'Preludes to Wordsworth' consists settings of Wordsworth's poetry. It will be launched this autumn in the Lake District at Wordsworth's house, Rydal Mount.