Crybb
18th September 2019 @ 8:00 pm

-

10:30 pm
Crybb are:
Gary Painting (Guitar/Vocals/Bouzouki/ Percussion) and Kate Beresford (Whistles/Vocals/Melodica).
They draw on a steadily increasing repertoire of Self penned songs inspired by the county of Northamptonshire and wider world, as well as drawing from the vast well of traditional songs and music. They have a vast array of influeneces between them, but include All about Eve, Ralph McTell, Show of Hands, Suzanne Vega and Terry St.Clair, amongst others. With two albums to their name, they continue to grow as writers and performers and find themselves in more and more demand.
Crybb came into being in the autumn of 2015. Gary and Kate have played with various bands and always wanted to work together. They finally found the time was right, as they were both stay at home parents to young babies and Crybb became their escape from the daily routines.
From the first tentative rehearsals it became clear that they worked well together. Live performances started early the following year and they started to build their stagecraft.
​In the summer/autumn of 2017, they recorded their first album 'Aubade', Drawing largely on their own experiences and views of the world, but inter-sped with trad songs, it was a proud moment for the pair. The next year saw them continue to grow and they became residents at the Wurzel Bush folk club, Rugby.
Warming the stage for luminaries as well as the up and coming rising stars of the folk world has further honed and sharpened the duo. 'Fortune and folly' was recorded in the autumn/winter of 2018/19 and was inspired and written, about places and stories from within their home county of Northamptonshire.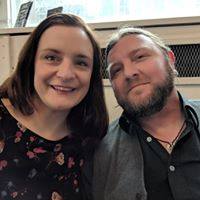 Support is from Craig Sunderland a Midlands based guitarist and singer. Growing up listening to and playing folk music until starting secondary school. Playing in several reasonably unsuccessful bands in the early noughties, shift work put an end to being able to regularly practice. He realised he had really missed singing about adultery, religion, war, death and disease so went back to his roots as a folk singer. The final catalyst was when Gordon Giltrap turned up at Nuneaton Folk club, and to quote the wonderful and talented annA rydeR… "You know Gordon don't you? He said you were good" That's got to be the peak of my career!