Anthony John Clarke and Dave Pegg. Support from Andrew Loake
November 8 @ 8:00 pm

-

10:30 pm

£13
PLEASE NOTE: VENUE IS THREE PIGEONS PH, SOUTHAM Rd, BANBURY. OX16 2ED.
Peggy and AJ tour together each November. Their album 'Stand Up, Sit Down' is a collection of ten songs and is a summation of seven years of doing so. AJ has a keen eye for observation, a sharp wit for writing and a knack for turning phrases, evident in titles that make you wonder "what on earth could that be like? viz Routine Love, Irishman In Paris and Let Me Tell You How It Works. This is not a reproduction of their stripped-back, seated live sound – aside from mandolin, Peggy plays electric and bass guitar; La Belle Julia Porter, who co-wrote the songs, adds piano and strings; Adrian Black provides entirely apt clarinet and Mark Walker plays chimes. The songs benefit from these added dimensions. Try the full-on rock sound of Until the Wall Comes Down or Life's got its own agenda, a song that could only otherwise exist if Jake Thackery had been transplanted to Basin Street! There are songs that make you smile, songs to make you think and songs for which the only reaction is "yes – exactly". How can you resist a line like "I lost my religion in a poker game"? The songs are all direct and involve you immediately, but the craft in writing, subtlety of narrative and deftness of observation all reward repeated listens. Even after one listen, those skilfully coined phrases will leap into your head – and you'll thrash around to recall where it's from…and when you remember, this album ends up in CD player: it's an endlessly repeating cycle. Earworms that never get earworn.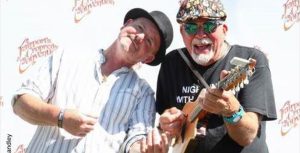 Andrew Loake was originally going to headline tonight but, he's kindly stepped aside to allow us to accommodate AJ & Peggy. He has agreed to do support instead and his virtuoso violin and guitar playing will, undoubtedly, delight us yet again.